Garage Epoxy Floor Coating
---

Correctly applied epoxy floor coating in a residential garage floor is a useful feature and deliveries many benefits for residential homes and it will instantly transform your garage floor into an inviting environment and acts as a permanent anti-dust sealer, our aim is to guide you through the benefits of a correctly applied epoxy floor coating in residential garages as well as available options and what to expect from your floor and lastly how to maintain it to maximize the life of your garage floor coating, hoping this will help you to make the right decision.
As Sydney's NUMBER ONE GARAGE FLOOR EPOXY PAINTING company, we are always striving to maintain our market-leading reputation and deliver high-quality finishes to beautify and protect garage floors. All of our floors are backed up by a 5-year warranty and the life expectancy of our premium system is over 15 years. These epoxy flooring systems have been developed to exhibit durability, abrasion & hot tyre pick-up resistance, while they provide a safe, easy to clean, and maintain floor covering.
We understand that Sydney's epoxy floor coating market is flooded with contractors with good websites, which all claim to be the best in this field and provide the best possible result, but the actual test would be a test of time and most of these coatings will age very quickly and show signs of wear. Our customers choose us to deliver quality work using premium products, and we are always here to answer all your questions.
Our residential manager has many years of experience in the industry and specializes in GARAGE FLOOR COATING, once your enquiry is received by our office, we will contact you to go through the available options and provide a NO OBLIGATION over the phone estimate and if you think Sydney Epoxy Floors is the right partner for your garage floor coating journey, we will arrange for a site inspection to check the condition of your slab and show you the actual samples of our range and firm up the contract.
A GARAGE FLOOR COATING can be as simple as grinding the floor, preparing, priming, and applying the required epoxy system or we could re-surface and level your garage floor using an epoxy screed before applying a finish coat over it.
Epoxy systems can also be applied straight over a tiled surface without having to remove them and our TILE-LOCK Self-level Epoxy Primer will adhere to the tile and fill in the grout lines and the finishing epoxy system can be applied and provide a seamless finish.
Please check our customer testimonial video at the end of this page and we are looking forward to receiving your enquiry.
---
---

---
---
Benefits of Installing Epoxy Floor Coating Systems to Your Garage Floor
WILL STOP CONCRETE DUSTING

A Professionally applied epoxy coating will permanently seal the concrete and stop dusting. This will make your life much easier and will reduce in-house cleaning times.

AESTHETICALLY PLEASING

The glossy top coat of our SEF Premium epoxy coating systems will reflect light and transform your garage into an inviting environment. In our exclusive range, we have designs to suit every taste and can be matched with any environment.


EXTREMELY DURABLE

The correctly applied 2 pack epoxy coating is extremely durable and will resist fuel, oil, as well as hot tyre, pick up. SEF premium flake system's topcoat is an ultra-premium UV resistant 2 pack epoxy finish and will provide many years of hassle-free garage floor covering.

INSTANT RETURN ON YOUR INVESTMENT

The median house price in Sydney is around 1.1 million dollars and the cost of epoxying your garage is less than 0.3% of the total value of your property and by beautifying your garage floor, you can increase the value of your home and reflect on the quality of the building. Damaged or stained concrete can be easily repaired with high build epoxy mortars and coated over with one of our SEF exclusive premium designs.
---
---

Garage Epoxy Coating is a permanent fixture of your house and in most cases, you will be living with it for a long time. If it's not done right, it will bring many years of trouble & heartache, will cost more to rip off a faulty coating and redo it properly.
Like any other product available in the market, epoxy coatings also come in different varieties and quality. Whilst most epoxy floors look the same in photos, the prep works, the quality of the materials used, as well as how it's done, play a huge role in a coating system's longevity and performance.
Our SEF premium epoxy systems have been developed to transform your floor into a modern, professional-looking floor and exhibit Durability, Abrasion & Hot Tyre Pick-up Resistance while providing Safe, Easy to Clean, and Maintain Floor Covering.
EXTREMELY DURABLE & HIGH PERFORMANCE


SEF PREMIUM coating system is has been developed to provide many years of reliable & low maintenance service and it sits above all other coating systems available in the market place.

COMFORTABLE UNDER BAREFOOT

SEF Premium Flake or Metallic Systems are pleasant to be walked on barefoot. A Typical Polyurethane finish is not gentle under bare feet and will feel uncomfortable.

EASY TO MAINTAIN GARAGE FLOOR COVERING

It's very easy to keep clean and requires minimum maintenance, It can also be pressure washed or mopped.

WON'T HARM YOUR FAMILY


LOW VOC products are easy to breathe and they won't harm you & your family.

UNIQUE, MODERN & EXCLUSIVE DESIGNS

Our SEF Exclusive and modern designs have been developed to meet today's design requirements and there is something every taste.

LOW VOC AND GREEN COATING SYSTEMS


We have great respect for our environment and all products used by us are environmentally friendly
---
---

---
---
---
A long-lasting Epoxy Coating rests on 4 piers and if one of these piers is not done to high standards, there will be a chance of coating's failure.
CORRECT PREPARATION

CORRECT preparation is the most important contributor to the life span of a floor coating job. If concrete is not prepared properly, the epoxy resin will not be anchored into the subfloor and it will fail in a short period of time.
Our approved method of preparation for GARAGE FLOOR EPOXY COATING is diamond grinding, using PROPER Floor preparation equipment. Acid etching, pressure washing, and similar methods of preparation are NOT RECOMMENDED by Sydney Epoxy Floors and while the end results look the same when the job is completed, the coating will come off under a bit of pressure & hot car tyres. Our designated garage floor coating fleet is equipped with the latest industrial-grade floor preparation equipment and dust extractors, which allows us to carry out full surface preparation.




APPLICATOR'S SKILL LEVEL

An applicator's EXPERIENCE LEVEL and their PRODUCT KNOWLEDGE are important factors in how your floor coating product will turn out. In the current market, there is a shortage of industrial coating applicators and due to lower demand in other fields, the market is filled with inexperienced applicators.
To maintain Sydney Epoxy Floors' market-leading reputation, our garage floor coating team members are HIGHLY SKILLED & FULLY TRAINED and have a minimum of 5 years of experience in the GARAGE FLOOR COATING field and have enough experience to make the right decisions and execute them on the spot.

QUALITY OF MATERIAL APPLIED TO THE FLOOR

Like any other available product in the market place, Floor coating materials are also available in High, Mid & Low qualities.
There is a wide range of epoxies available in the market, and most paint manufactures like to get a share of the pie, but NOT ALL EPOXIES ARE THE SAME.

GARAGE FLOOR COATING Epoxies are available in 3 following grades:
1- PREMIUM GRADE: These products are developed and offered by well-known brands and they normally cost 20 -25% more than the 2nd best-ranked brands.
They are environmentally friendly products and cause no harm to you and your family. Our Guarantee to you and our staff is that we will only use Premium Grade materials and we like to do our bit to assure our earth is looked after, for generations to come.
2- Contractor Grade: This range is widely favored by most contractors. They cost less and generally have strong odours. These strong odours are very harmful and stay within your house for a long time, and can cause breathing issues. We strongly believe these products should be banned by the government, like asbestos.
3- DIY PRODUCTS: These products are widely available in Hardware and Paint Stores. The main focus behind developing this type of epoxies is to "Be Easy to Apply" and to achieve these characteristics, lots of thinning agents such as water or solvents are added to the formula and these products are slightly better than paving paints.

DRY FILM THICKNESS

DRY FILM thickness plays an important role in product quality, the thickness of the dry film is measured in microns ( 1000 Microns = 1 mm), adding thinners or water, which will increase product coverage and reduces material cost by far, but also reduces the quality of the finish.

A proper garage floor flake epoxy coating should have at least 400 - 600 microns of clear topcoat to achieve a premium finish which will last up to 15 years. To achieve a dry film thickness of 400 microns with traditional polyurethanes, the contractor should apply 4 x coats. Our clear topcoat is an Ultra-premium UV Resistance EPOXY top coat and it's applied with Squeegee. we will guarantee a dry film thickness of 500 microns for your floor.
---
---
---
---
Available Epoxy Coating System Options For Garage Floors
Our garage epoxy coatings are available in a variety of colours and patterns and deliver a flawless, smooth, and elegant shine. You can choose a traditional finish or make it more personalised with our range of patterns and designs. Our exclusive modern range of decorative flakes offers something for every taste.
---
---
---
---
Solid Colour Epoxy For Your Garage Floor
Cost-Effective and Durable - 2-day floor coating system*
Commonly, this system is made from one coat of Sikafloor 94 (100% solids premium grade low viscosity epoxy primer) applied at 1000 microns to fill in any imperfections and one roller applied a coat of Sikafloor 264 (100% solids premium grade epoxy resin) available in all colours from Sika Australia's Colours Chart. The roller applied finish will meet R9 slip rating and can be made more anti-slip on request. also, an optional layer of Polyurethane coating can be applied to the floor to provide UV Resistance and extra protection.
In most cases, the solid epoxy coating for garage floors can be applied within 2 days with light foot traffic being allowed the next day and heavy traffic going over the floor after 5 days.
We will guarantee this system for 5 years and with regular maintenance, you can expect this type of coating to last up to 10 years.
---
---
---
---
SEF PREMIUM Epoxy Flake System
Extremely Durable, Decorative, easy to keep clean and maintain.
Our SEF Premium flake epoxy coating system is the most suitable type of coating for residential garages. SEF FULL FLAKE epoxy system, will beautify your floor and provide many years of hassle-free service. The finish is odorless and is available in 20 custom-made patterns exclusive to Sydney Epoxy Floors and most garages will be done within 2 days and light foot traffic is allowed the next day and cars will be able to go over the floor after 5 days.
We will guarantee this system for 5 years and with regular maintenance, you can expect this type of coating to last up to 15 years.
---
---
---
---
Epoxy Metallic Floor Coating
Unique and beautiful floors
Our SEF Metallic epoxy floor coating system is made from one coat of 100% solids low viscosity primer, one base coat of 100% solids premium grade epoxy resin (applied by Squeegee), with the Metallic effect coat completed using premium epoxy finishes available to the Australian market and one coat of our SEF SuperClear.
The metallic floors are beautiful, unique, durable and it will turn any space into a showroom like environment. Our metallic floor coating system is on display at our showroom located at 6 Giffard Street, Silverwater NSW 2128 and you can come to see how our premium system performs.
In most cases, your floor will be completed within 4 days with light foot traffic being allowed the next day and heavy traffic going over the floor after 5 days.
We will guarantee this system for 5 years and with regular maintenance, you can expect this type of coating to last up to 10 years
---
---
---
---
Our SEF PREMIUM FLAKE, PREMIUM METALLIC, AND SOLID COLOUR SYSTEMS are on display in our Sydney Epoxy Showroom located at No 6 Giffard Street Silverwater NSW 2128 and you can come to see for yourself how our premium system performs and how easy it is to keep clean.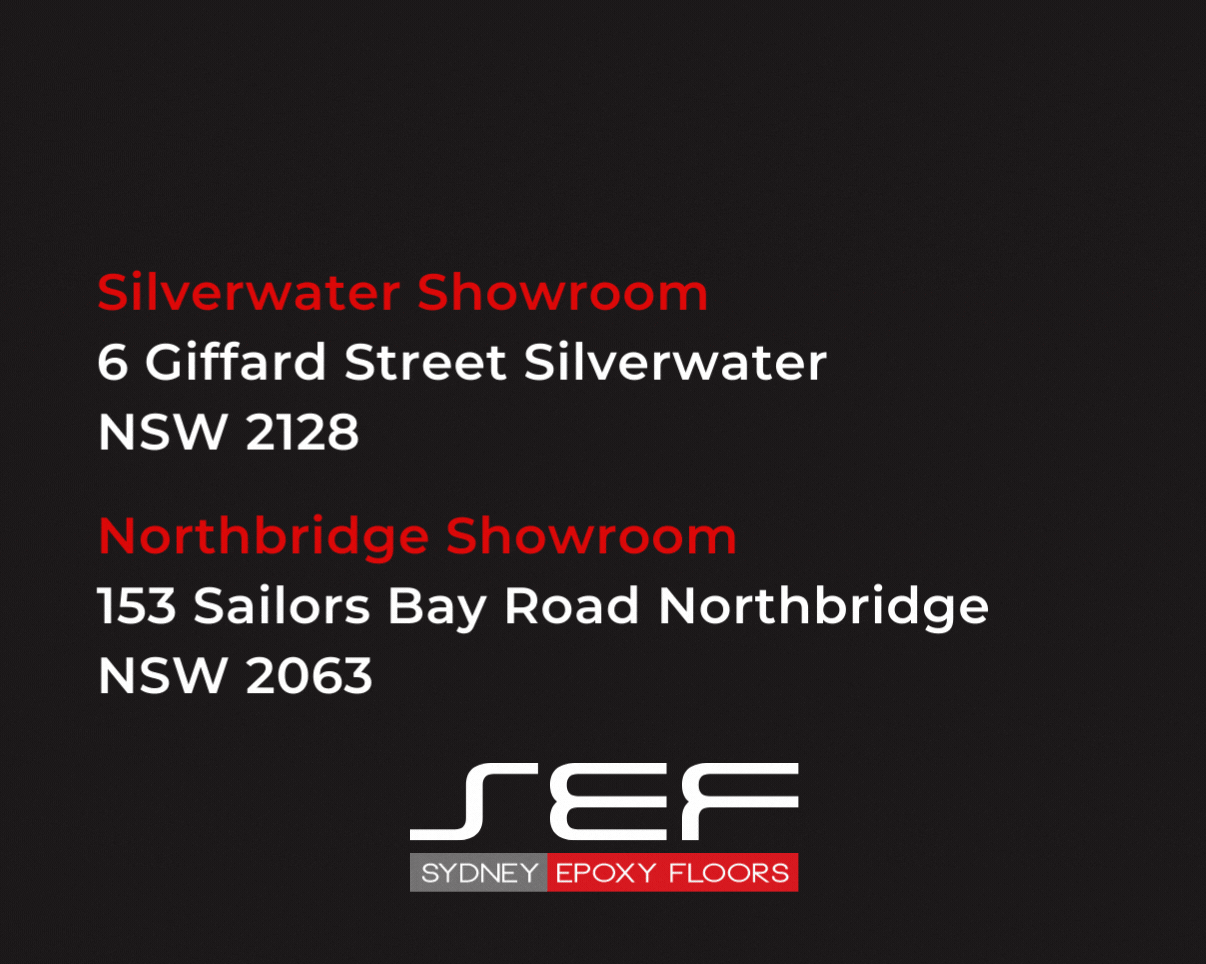 ---
---
---
---
Our SEF Premium Flake System is backed by a 5-year warranty, Click on videos to see how we handle our warranty claims!
---
---
---
Complimentary Site Inspection
We offer a complimentary, obligation-free site inspection for all garage floor projects.
Simply send us an email or contact us on 1300 037 699 today.
---
---
---
---